Summit - Agreements User Guide
The Summit User Guide is here as a training tool, Help reference, and FAQ list.
---
Log in
To log in to Summit Agreements, go to: https://agreements.summit.cloud.vt.edu/.
Enter your CAS login credentials as you would with the current Summit Proposals you are familiar with or any other VT system.
---
Agreement Types currently in Summit Agreements
For detailed spectific information on an agreement type, navigate to its cooresponding section under the "Agreements Type" tab on the top band of the user guide.
Note: For all other agreement types not in Summit as of yet, please continue to communicate directly with OSP Contracts at ospcontracts@vt.edu.
---
Help
For questions about a specific agreement, contact the Assignee or Contract Admin listed in the agreement or email ospcontracts@vt.edu


For general Summit system questions or issues, email era-help@vt.edu.
---
FAQ
How to change the PI on an agreement - Instead of changing the role itself, you'll change the name of the member attached to the role. So if you need to change who the PI is on an agreement, make sure they are not already on the agreement in another role (if so delete their entry), then click the pencil under Actions to Edit the Contributor and change the Name field to your new PI.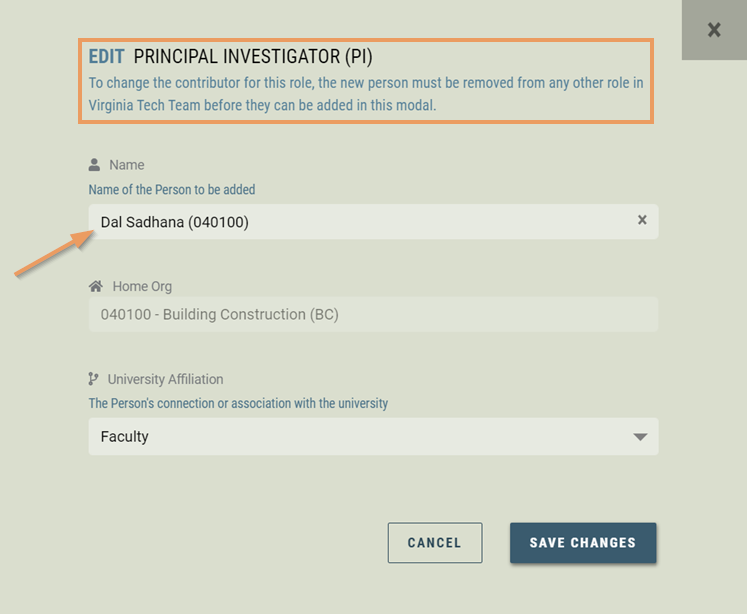 How to add a user to an organization to have access to Summit Proposals, Summit Agreements, or all work items in Summit. - email summitHelp@vt.edu with confirmation from the organization's department head or business manager.